Make Your Own Natural Hand Cleanser
We are in a time when trying to keep our hands clean when out and about is a concern. So, with that in mind, how about making your own?
There is a language choice here when using the term sanitiser. In order to be classed as a sanitiser, the product must contain alcohol. Now, the Onguard and the Aloe Vera are certainly doing the job of being anti-bacterial and Anti-Viral, (this study really does show how effective it is on a strain of the influenza virus.) I did not want to use alcohol in a product for the children, and knowing how effective the Onguard is, I feel this is a good compromise. 
I have listed below the ingredients and instructions to make your own hand cleanser. I love using essential oils and moved to Doterra last year. The On Guard has been well researched and it is my go-to at home for all my sanitising products. I use it in my surface cleaning spray and in my room sprays for my Wellbeing Centre too. You can always replace this with lavender and tea tree if you have those available. The oil stops the hands from becoming too dry, and it makes the final product feel really lovely on the skin. You can use Vitamin E oil, but I just used a really good organic Coconut Oil. 
Please note: I am not suggesting that this hand cleanser can kill every known bacteria or virus, just offering a more natural solution that can be effective on some. 
If you have glass bottles instead, especially blue or amber then great. But as I wanted ones for the kid's school bags, I choose to use BPA Free recyclable plastic ones instead. I have also made some in glass bottles to keep at home. 
Ingredients
Aloe Vera Gel - 5 Tablespoons
Water - 5 Tablespoons
Oil - I used coconut oil 1/4 teaspoon
Onguard Essential Oil Blend - 8-10 drops
Small 30-50ml Bottle - either a flip-top or spray top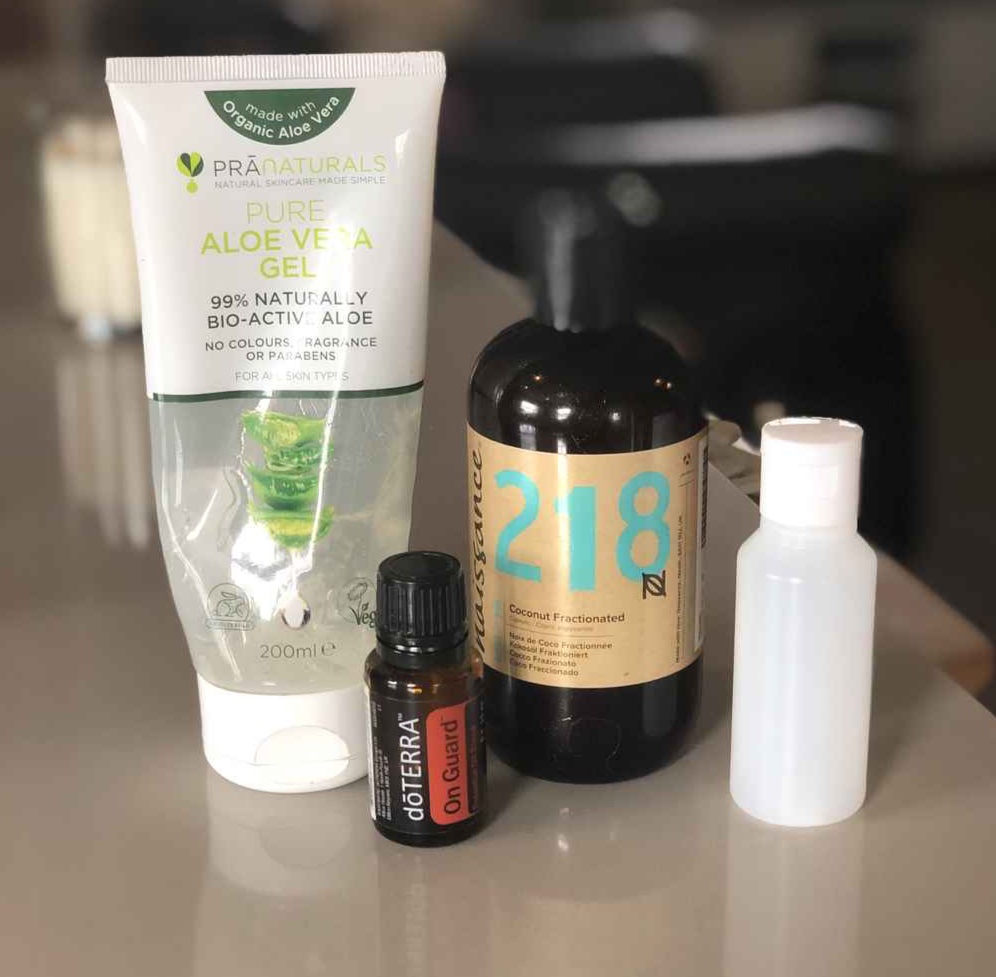 Instructions
Mix the gel and oil together in a bowl, slowly add in the water (you can also use Witch Hazel, which again is antibacterial). Add in as much water as you think you need. As the Aloe Vera gels can vary in consistency, this will need to be based on your preference. I wanted mine to come out of the bottle easily for the kids, but still thick enough to coat the hands. When you are happy, add in the essential oils and stir thoroughly. Decant into your bottle of choice. I used one with a flip-top lid, again to make it easy for the girls.
You can then make as many as you need, pop them into school bags or handbags and you are good to go! 
A short but sweet way of making it natural and one that you can easily get the kids involved with! 
For more details on Mindful Makes with your kids, check out the previous blog.
If you would also like to sign up to the Mindful Parenting Newsletter and grab your FREE AFFIRMATIONS, then you can sign up today and they will be sent straight to you! 
I also have a fab Facebook Group - where we discuss all things related to being a more Mindful Parent. So, come on over and join the conversation
NB: Please note that there are affiliate links in this post. I do make a small amount from the links if you purchase. I only ever promote products that I use, so you know that I am happy to share them with you. 
Rachel Hawkes is a mum to twin teenagers and teaches baby and kids yoga & mindfulness classes, alongside running a business Wellbeing Centre. She is a published author of 2 books relating to Mindful Parenting and loves to share her tips and ideas wherever she can.
How Can I Help You Further?
Have you grabbed the FREE AFFIRMATIONS? 12 glorious, full-colour printables for you to keep. 
 Join the Private Facebook Group - all for parents looking for more ideas.
Sign up to the newsletter for lots more freebies and little ways of adding in some mindful moments
x
Rachel 
Lots of Mindful Parenting FREEBIES
if you would like to grab regular freebies including printables, then please join the mailing list.
We hate spam too. Unsubscribe at any time.
 Mindful Parenting Printable Packs
Just part of the products available, affirmations as such an easy mindful activity to add into the day