Summer Survival For Parents - 20 Kids Mindfulness Activities
School Holidays
Love or Hate?
Usually for parents, it's mix of the two (often on a daily basis). 
I wanted to be able to offer some of the strategies that have been really helpful in our family. So I have put together;
Parents and Kids Summer Survival Workbook
A lovely 15 page FREE workbook that you can download today. This is a great way to all come together to discuss HOW to work through some of the issues that come up for many parents. 
It has 3 topics of practical ideas and techniques to help you work through some of the issues that come up EVERY holiday in my house.
It also includes my free PRINTABLE KIDS MINDFULNESS ACTIVITIES CHECKLIST.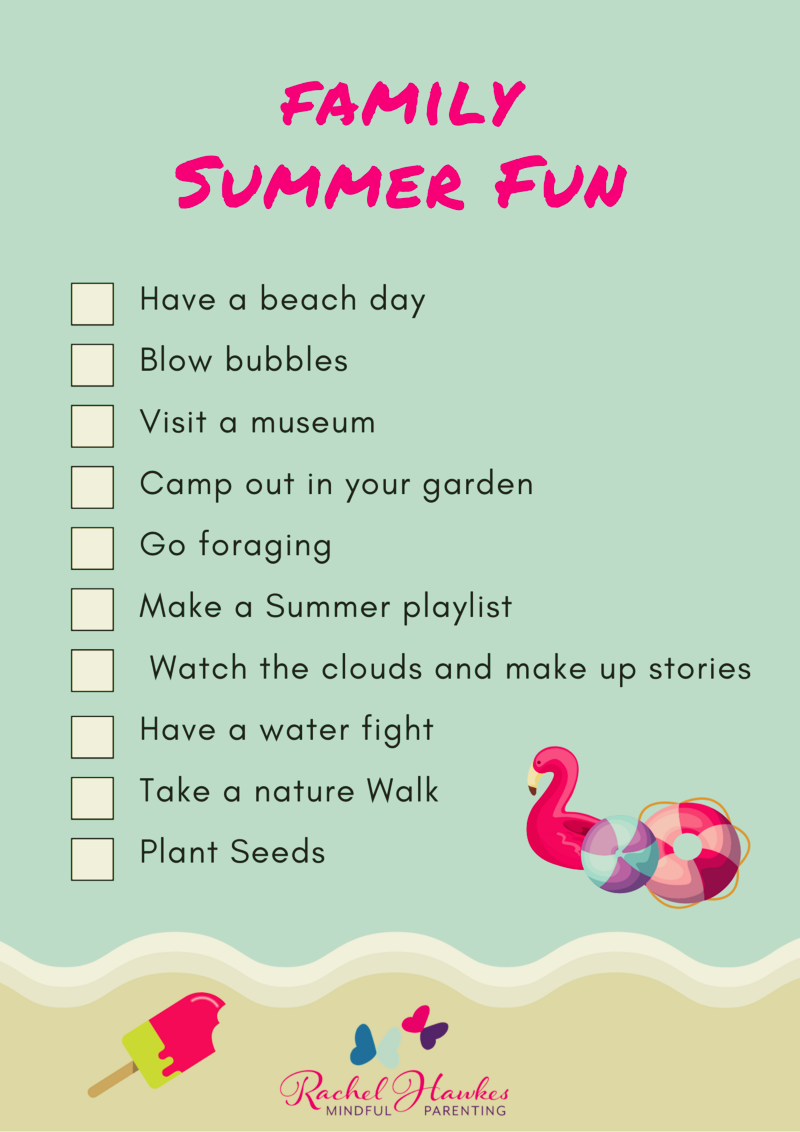 Facebook Support 
There is also plenty of support over in the Facebook group too. 
This Summer is going to be very different from last year, and pressure is on to make the most of it.
This too can lead to overwhelm and feeling one has to 'do it all'.
This workbook will guide you through open discussions with your family and creating a Summer that you will all enjoy. 
Your Summer Bucket List
We all have things that we want to do this Summer, so topic one will start with you creating your own family Summer bucket list. You can fill this with lots of kids outdoor activities but of course allow for those rainy days, or just dealing with what to do when the kids are bored with some fun indoor activities for kids too. 
Setting Boundaries 
Yes, we all know we should deal with them, but we often let things slide, especially during Summer holidays. Topic 2 is how to make it a discussion, so that both kids and parents are aware of the what boundaries will be in place. 
A Summer Of Mindful Moments
The workbook will really help you focus on some keys issues that tend to come up over any school holiday, but we also wanted to give you a quick win with 20 ways to keep your kids busy this Summer! Between this list, the printable checklist and the 3 days of tasks, you guys are going to be rocking this Summer! 
20 Mindful Activities For Kids
Topic 3 is all about thinking of your own kids mindfulness activities, ones that you ALL want to join in!
In the meantime (as a little cheat for topic 3), here is my
TOP 20 Mindfulness For Kids Actitivites:
Play in the garden
Blow bubbles
Build a camp in the garden
Eat dinner over a fire
Watch a sunrise or sunset
Watch the clouds and make up funny stories or animals
Walk on the beach
Decorate something old, with arts and crafts
Write a thank you card or poem
Go through family photos 
Talk a walk barefooted in grass
Visit a zoo
Walk your dog, or a friends dog
Dance!
Sing along to a song
Play a board game
Make an afternoon tea
Grow something from seed
Make a present for a friend
Have a family reading evening
There are plenty of ideas there to inspire, but the list is of course endless! 
Enjoy your Summer and please do connect via the Facebook Group to see how our lovely Mindful Parenting tribe continue to support each other on our parenting journeys.
How Can I Help You Further?
Have you grabbed the FREE Anxiety Pack - Help for those dealing with stress & anxiety?
 Join the Private Facebook Group - all for parents looking for more ideas.
Sign up to the newsletter for lots more freebies and little ways of adding in some mindful moments
x
Rachel
Lots of Mindful Parenting FREEBIES
if you would like to grab regular freebies including printables, then please join the mailing list.
We hate spam too. Unsubscribe at any time.
 Mindful Parenting Printable Packs
Just part of the products available, affirmations as such an easy mindful activity to add into the day